The 5 Benefits of Blogging: Is Blogging Right for You?
When I first started this blog 2 years ago, I had a follower on Twitter DM me.
He had been blogging for 3+ years.
He noticed that I had causally been writing more.
That's when he gave me an insight:
'Armani, you are not going to be the same person in the future as you are now.'
I thought that was obvious.
Obviously, I am going to be a different person.
But that's not what he meant.
His eyes were on how the act of blogging was going to change me as a person.
I scoffed at the notion.
It's just writing!
What's the big deal?
However, he was right.
His insight was a preview of the many benefits that I would soon experience…
What is Blogging?
Blogging is the art of creating your ideas on a public domain.
Normally, a blog is informal styled.
Where the blogger is casually writing to connect with the readers.
They don't sound like they are doing a thesis paper for a Ph.D.
It's the clarity of the ideas that are king.
This is a paradigm shifter.
Mainly because in school, tons of people had their perception ruined towards writing.
For me, it was the red pen of doom.
'The red pen?'
Yea…
This is when a student put a ton of thought into their essay.
Then they delivered their work.
By the time they got their paper back…
It was filled with red lines from the teacher indicating poor grammar, poor spelling & poor sentence structure.
Ideas came secondary to the rules…
That was my experience with writing.
I thought all form of writing was like that.
Not quite.
With blogging, ideas are king.
Benefits of Blogging
Now that we are on the same page with the definition, I want to share some benefits I've noticed.
These were not things that I was initially expecting.
The benefits were an emergent property born through consistency.
1. Improved Writing Skills
This is obvious but needs to be said.
Blogging advances writing skills & allow your personality to slowly seep into the words.
When I was first blogging, I didn't know what I didn't know.
I had certain ideas but didn't know how to deliver them.
The more I blogged, the more the writing muscle strengthened.
That's when I felt more flexible in articulating concepts.
More importantly, as my body of work grew, I was capable of cross combining ideas.
This blog predominantly deals with communication skills.
The skills I discuss are:
Public speaking, social skills, storytelling, emotional intelligence, content creation & concentration.
Imagine my surprise when I noticed these subjects were not in compartments of their own.
Instead, they all combined into one large web.
2. A More Interesting Personality
I've noticed that writers are often crystal-clear speakers.
They know how to make their point with fire & knowledge.
A writer has an interesting personality because they learned the art of thinking.
'Thinking? What's so great about that? Doesn't everyone think?'
No.
The general population looks around them & sees what everyone else is thinking.
Then they choose a side.
However, with bloggers, there is no hiding.
No middlemen or anything.
It's just you and your words.
In the process of connecting thoughts, proofreading, reorganizing paragraphs, adding additional points, etc… is where thinking is born.
When emotions are controlled, a writer develops deadly critical thinking skills.
3. Passive Networking
Networking is a lot like making money.
Let's say there are 2 types of income:
Earned income.
Passive income.
Earned income is when you trade your time & energy for money.
Passive income is when you generate cash flow from an asset.
Let's say Ricky is a public speaking coach who teaches others how to create & deliver a speech.
That's his earned income because he needs to be present & teach.
Afterward, he gets the money & puts it into real estate.
His property manager pays him out every month.
That's the passive income.
It's a similar concept to networking.
Active networking is going to live events, hosting a party, sliding in DMs, writing a blog, etc.
Passive networking is others referring you business, giving you a shoutout, sharing your social media post, etc.
Blogging is a form of active & passive networking.
Mainly because after you are done creating the content, it can be shared & spread by others.
A blog post I wrote over 2 years ago still brings new readers to the ArmaniTalks brand.
The energy you put out there is the energy you get back.
4. Building an Idea Portfolio
I've heard the quote:
'When looking at stars, you are looking back in time.'
My remix is:
'When looking at your old blog entries, you are looking back in time.'
Every morning, I watch an old YouTube video, listen to an old podcast, and read an old blog.
By old, I mean from at least 6+ months ago.
Because by the time I consume the old content, it's like I am meeting a new person!
'A new person in just 6 months?'
Yes.
I think people who do not blog or do any form of content creation are not aware of the micro changes in their personality on a day-by-day basis.
It's sort of like Jacob.
He used to be 350 pounds.
For the past 2 years, he has been GRADUALLY losing weight.
After 2 years, when his friends see him, they are amazed!
Jacob looks like a different person.
But for Jacob, he doesn't see the big deal.
Why?
Because he's with himself all the time.
The changes are less noticeable to him.
The reason it's amazing to see your idea portfolio is that it makes you more aware as a person.
Present-day decisions are viewed with importance.
Soon, creativity builds and time becomes warped.
5. Impact
I've seen different professions describe what they do for a living.
When they bring up the impact of their work, that's when their eyes light up.
Michael Jordan was a guy who used to talk like that.
He said the game of basketball was great.
But what lit him up was the impact his game was going to have on future generations.
With blogging, it's digital energy that is put into the world.
It's capable of shifting someone's thought processes for the best.
This is one of the benefits of blogging that money can't buy.
One of my articles that became popular was on the psychology of nitpicking.
I explained why people nitpick & how they could stop doing it.
I've gotten multiple emails from readers talking about the impact that post had on their lives.
Heck, I had a man email me saying that the blog helped him avoid divorce!
An idea portfolio that shares empowering ideas is great karma.
This universe has cause and effect.
Never know what kind of fruits the blog will bring.
Is Blogging Right For you?
I believe there are tons of resources on how blogging can impact your business.
It can help your business with:
-Adding more credibility.
-Allowing potential customers to know where you stand on topics.
–Build rapport before going for the sale.
However, the purpose of this article was to talk about the benefits of blogging from a new light:
To view it as a craft.
Is blogging right for you?
How do you think the benefits can be relevant to you in your life?
Here's a pro tip…
You won't fully know the benefits until you start blogging.
But as the Twitter follower who DM'd me said:
'You are not going to be the same person in the future that you are now.'
Looking to learn the art of creative writing?
Then be sure to check out the Prolific Writer!
In this book, you will learn the art of:
-Creating your voice.
-Building a consistent writing practice.
-Creating content that engages others.
And much more.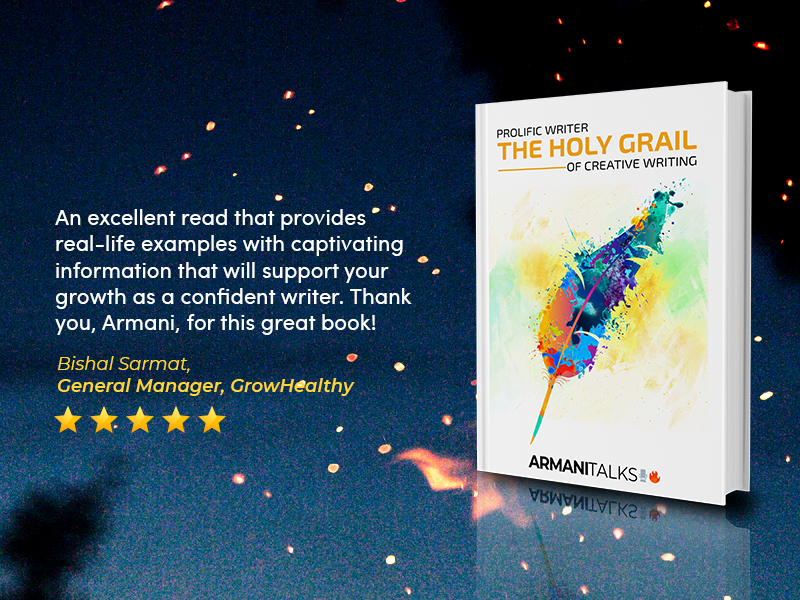 – ArmaniTalks